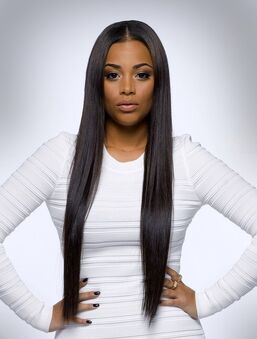 Keira Whitaker is one of the main characters of The Game, since the sixth season. She replaces Tia Mowry's character Melanie Barnett-Davis. She has an on again-off again relationship with Saber's wide receiver Bryce Westbrook.
Keira is portrayed by Lauren London.
Biography
Edit
Keira is a 25 year old actress and ex-child star who starred in a fictional 'Cosby'-esque sitcom called Stuck Together.
Since the show's cancellation and Keira entering her early twenties, Keira has difficult times finding roles and transitioning into an adult actress. She is bright, charming, and since the age of five quite comfortable with the spotlight. Her insecurities come into play as she navigates through a new world and her days in the spotlight are numbered. After filming a movie titled "Baggers", she seemed to have filmed a sex scene with her co-star, Luke but didn't tell Blue. Blue is jealous after the movie premiere and they break up.
In season 7, Kiera and Blue elope after Blue proposes, skipping Jason and Chardonnay's wedding.
In season 8, after being told by several people that she needs to dedicate herself to her craft, she kisses Malik at an audition after they had to be forced to by the acting coach; leading to deeper feelings between the two, who were just best friends before. Blue catches on & breaks off the engagement.
In season 9, after a huge fight between he and Malik in an elevator. Keira ends up with Malik, at the disapproval of Tasha. In the series finale, after Malik breaks up with Keira, she sleeps with Blue once more, refuses Malik's proposal & she decides to focus on her career. She gets her breakout role.
Relationships
Edit
Bryce "Blue" Westbrook (Ex-husband)
Malik Wright (Attraction)
Ad blocker interference detected!
Wikia is a free-to-use site that makes money from advertising. We have a modified experience for viewers using ad blockers

Wikia is not accessible if you've made further modifications. Remove the custom ad blocker rule(s) and the page will load as expected.