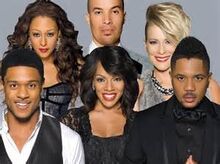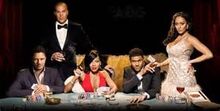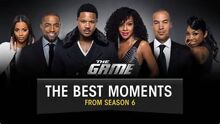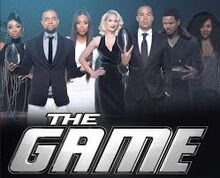 The Game had many main cast member comeing and going at differnt times
Main cast
Edit
Tia Mowry Hardrict (season 1−5) as Dr. Melanie Barnett-Davis, M.D. - Melanie Barnett-Davis is the show's main protagonist. In season one, Melanie is a medical student who gave up the chance to attend Johns Hopkins School of Medicine to move to San Diego with her boyfriend Derwin Davis while attending a less prestigious medical school in the area. Melanie is the cousin of Los Angeles attorney-turned-restaurateur Joan Clayton. In season 1, Melanie and Derwin break up due to Derwin's infidelity, which starts a series of ups-and-downs between the two. In the season three finale, Melanie finally marries Derwin during a private ceremony. In season 5, she decides to pursue her medical career and begin a residency program at Johns Hopkins School of Medicine. Derwin was against it at first but eventually came around.
Pooch Hall as Derwin Davis (starring seasons 1-5; guest appearance in season 6) - Derwin Davis is a wide receiver for the San Diego Sabers and husband of Melanie Barnett. In the season one finale, Derwin has an affair with Drew Sidora, and Melanie breaks off the relationship. In the season two finale, he finds out his ex-girlfriend Janay is pregnant with his baby. In the season three finale, Derwin's son is born and he finally marries Melanie in a private ceremony. In the fourth season premiere, there are some questions regarding the true paternity of Derwin's son. Derwin also emerges as a superstar player in season 4, getting numerous endorsement deals, including Nike, and becoming the new face of the Sabers organization. In May 2012, it was announced that Hall would not return to The Game for the 6th season; however in August 2012 it was announced that he would be returning, but Hall would only appear in one episode. In Season 6, Derwin was traded to Baltimore in exchange for Blue, who was chosen by Baltimore as the Number 1 Draft Pick. This allowed Derwin to be with Melanie, who is in Baltimore doing her Residency. The trade, however, was not planned by Derwin, but executed by the team owner because Derwin was responsible for the injury of former teammate and quarterback Kwan Kirkland.
Ad blocker interference detected!
Wikia is a free-to-use site that makes money from advertising. We have a modified experience for viewers using ad blockers

Wikia is not accessible if you've made further modifications. Remove the custom ad blocker rule(s) and the page will load as expected.