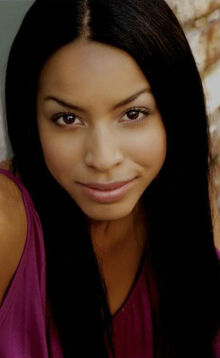 Pucci Wright is the daughter of Chauncey Wright and the half-sister Malik Wright.
Biography
Edit
Pucci is introduced as the younger sister of Malik Wright. Malik excited to meet his sister, thinks the two of them have slept together due to a tattoo being on her lower back. It's revealed that it was Pucci's friend and not her. She has dreams and and aspirations of being a singer.
In the season 3 finale, Pucci goes to an executive's party and gets drunk. Malik has to save her but not at the expense of her "new" manager, Ronnie. Tasha saves the day by coming to get Pucci with Pookie.
Pucci is later seen singing at Melanie and Derwin's wedding.
Ad blocker interference detected!
Wikia is a free-to-use site that makes money from advertising. We have a modified experience for viewers using ad blockers

Wikia is not accessible if you've made further modifications. Remove the custom ad blocker rule(s) and the page will load as expected.