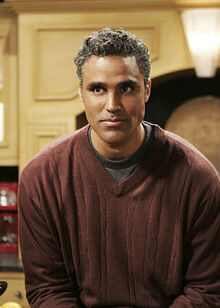 Rick Fox is a former NBA star and later sports agent.
Biography
Edit
When he was in his prime, he was a actor and professional athlete but by the time the The Game took place, he was trying to be a manger working for ISM. He takes a liking to Tasha Mack but they don't start dating until a few episodes later in season 2. In season 2, Tasha wants to keep their relationship a secret because of company rules but Rick challenges her authoruty and she abides by his rules. Towards the end of season 3, Tasha is fired from ISM and blames Rick when he is promoted.
He later breaks up with Tasha and moves to Miami, Florida.
In the season 3 finale, he appears at Melanie and Derwin's wedding asking for Tasha's forgiveness.
In seasons 5-9, Tasha and Rick have an on and off relationship and is the major part of a love triangle with Tasha and Pookie. Pookie jealous of Tasha's relationship with Rick, ends up accidentally shooting him but he lets them go when he learns that Pookie has two strikes. He's seen leaving San Diego with Chardonnay Pitts.
Relationships
Edit