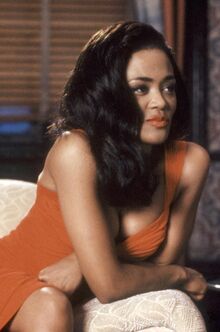 Robin Givens is actor and the ex-wife of Malik Wright.
Biography
Edit
In season 2, Robin and Malik meet at one of his parties.
They have a sexual relationship but Malik falls in love with her. In an attempt to win her heart, he proposes to her. They're later in a fake marriage and Robin uses it to her advantage. In season 3, Robin and Malik have a wedding reception, where he belives she loves him.
Robin later tells him that she'll never be in love with him.
In the later episodes, it's revealed that Robin and Tasha's boyfriend, Rick Fox were once in a relationship. Robin later outs Malik as gay, and she leaves him to deal with the aftermath of her accusations.
Relationships
Edit
Ad blocker interference detected!
Wikia is a free-to-use site that makes money from advertising. We have a modified experience for viewers using ad blockers

Wikia is not accessible if you've made further modifications. Remove the custom ad blocker rule(s) and the page will load as expected.